LINNELL'S AUTO LEVELLING DUEL USE TROLLEY
---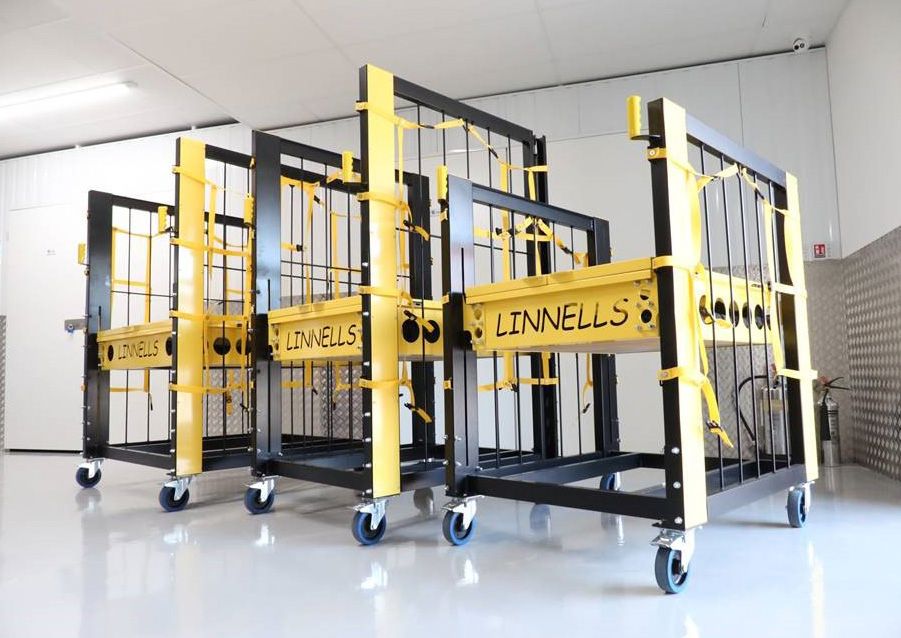 The Patented ergonomic design provides the user with a roll container to meet the demands of fast moving and changing operations, eliminates the need for different trolleys or pallet trucks and will increase productivity while generating a better working environment.
The only trolley you will need
From the experience gained over many years of providing working solutions to our customers the Auto Levelling Trolley was designed.
A multipurpose fixed or mobile container designed to minimise operator strain whilst increasing productivity, efficiency and generating a better working environment.
With the platform lids closed use as a standard trolley with the advantage of auto levelling for transporting items such as parcels, boxes, sacks etc.
A simple operation opening the platform lids and attaching the stowaway packet bag converts the trolley into an auto levelling packet receptacle bag ideal for conveyor loading / unloading, pick & pack operations, small items, packets etc. together with easy access from front, back or top.
Download Brochure
Watch the Auto Levelling Duel Use Trolley in Action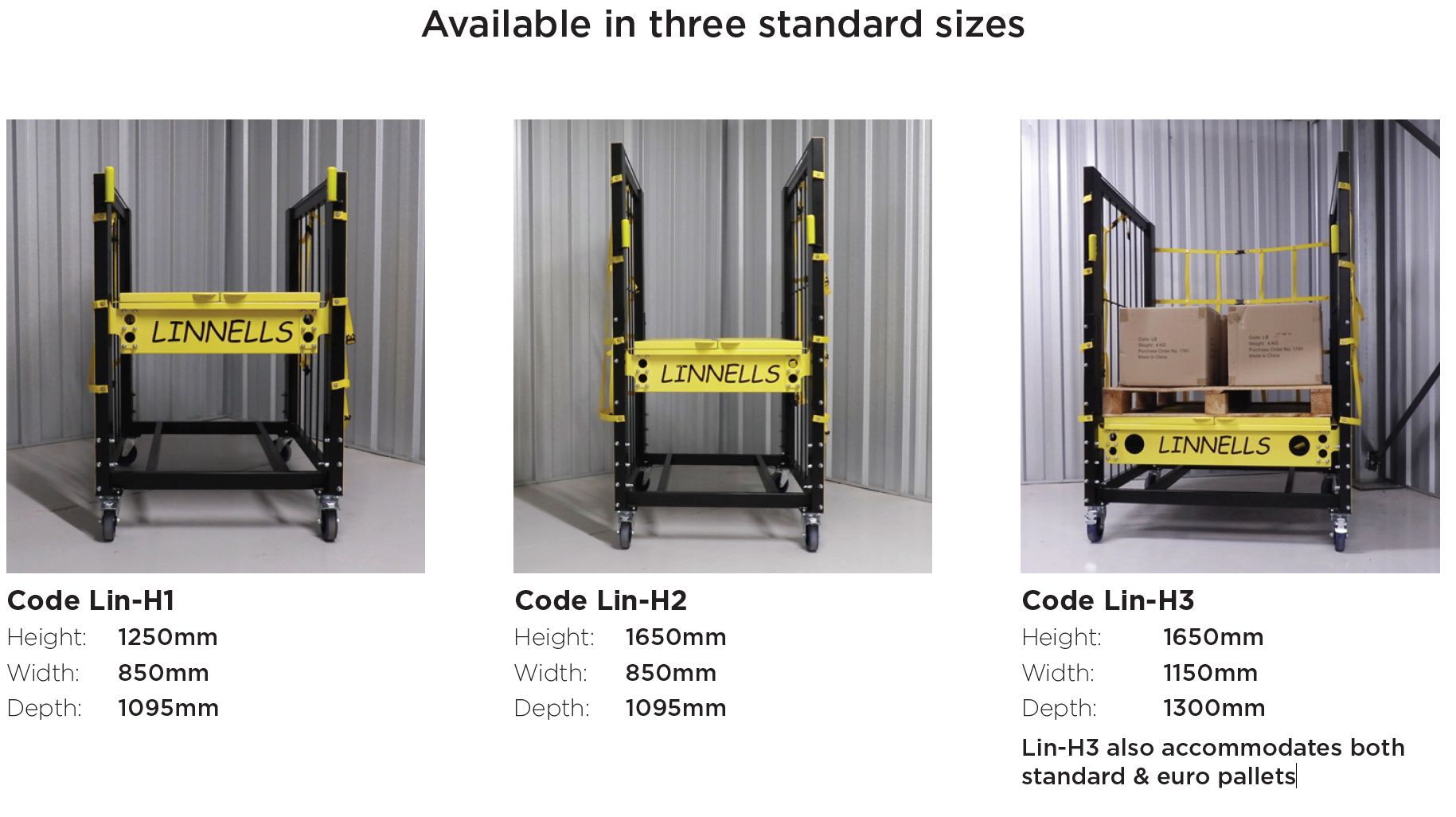 Lin-H1
SPECIFICATIONS
Code:
Lin-H1
Frame:
Mild Steel 1.5mm
Runners:
Mild Steel 3mm
The moving assembly is attached to the tray with springs
Wheels:
Heavy duty 125mm diameter non marking
Finish:
Epoxy polyester power coated
Packet Bag:
Heavy duty polypropylene mesh
Zip:
Heavy duty
DIMENSIONS & CAPACITIES
Size:
Height 1250mm
Width 850mm
Depth 1095mm

Weight of trolley empty:
83kg
Gross Weight:
250kg
Volume:
0.60 cu mtrs max
Platform Travel:
430mm
---
Lin-H2
SPECIFICATIONS
Code:
Lin-H1
Frame:
Mild Steel 1.5mm
Runners:
Mild Steel 3mm
The moving assembly is attached to the tray with springs
Wheels:
Heavy duty 125mm diameter non marking
Finish:
Epoxy polyester power coated
Packet Bag:
Heavy duty polypropylene mesh
Zip:
Heavy duty
DIMENSIONS & CAPACITIES
Size:
Height 1650mm
Width 850mm
Depth 1095mm

Weight of trolley empty:
106kg
Gross Weight:
350kg
Volume:
0.85 cu mtrs max
Platform Travel:
430mm
---
Lin-H3
SPECIFICATIONS
Code:
Lin-H1
Frame:
Mild Steel 1.5mm
Runners:
Mild Steel 3mm
The moving assembly is attached to the tray with springs
Wheels:
Heavy duty 125mm diameter non marking
Finish:
Epoxy polyester power coated
Packet Bag:
Heavy duty polypropylene mesh
Zip:
Heavy duty
DIMENSIONS & CAPACITIES
Size:
Height 1650mm
Width 1150mm
Depth 1300mm

Weight of trolley empty:
117kg
Gross Weight:
350kg
Volume:
1.44 cu mtrs max
Platform Travel:
430mm
Please contact 0208 594 5898 for pricing